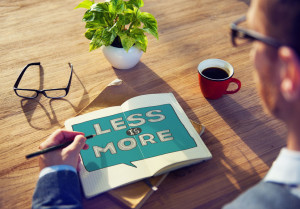 We all have a lot of stuff. We have so much stuff that there is over 2.35 billion square feet of self storage units in the United States. We have closets full of clothes we have not worn for years. We have multiple email accounts with hundreds or even thousands of emails. We have desks that have stacks of stuff on them. We have multiple calendars filled with appointments. Here are 7 ways to simplify all of this.
7 Ways to Simplify your Life
Clean Your Closet

Schedule a Saturday morning to clean your closet
Take all the clothes and shoes you have not worn in the last year and give them away to one of your favorite charities

Clean Your Email

Set up an offline folder for your unread email

Set rules for email to go to an offline folder automatically.

Reduce the number of emails you get in a day by unsubscribing as you receive solicitation emails
Delete your trash
Take action on email

Read and take action when you read the email
Move unwanted emails to trash
Move emails you want to keep to your offline folder for unread email or to Evernote to read later

Clean Your Desk

Keep your desktop clean
Focus on one thing at a time
Purchase a simple organization system. A tray or box for working on, need to delegate, need to file and need to shred.

Clean Out Your Cell Phone

Delete all the apps you have not used in the last 60 days

Get Rid of Your Storage Unit

Sell everything you don't need or give it to charity
Bring everything else home and save yourself the storage cost

Evernote
Calendar

Use a  calendar system
Use separate work and home calendars if that works better for you
Schedule fun things in to your calendar
Be Great!