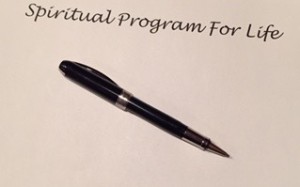 Many of you have a Plan for Your Life, but do you have a Spiritual Program for Your Life?
A spiritual program for your life is a plan to help you progress in your spiritual development.  It a a road map you create to help you grow in holiness.
Steps to create a spiritual program for your life:
1) You will need to set some time aside to reflect on yourself. I recommend taking at least a half a day to do this. Pick a quiet place to reflect.
2) Determine your root sin.  The root sins are Pride, Vanity and Sensuality. We each have all of these to a degree, but one will usually stand out.
Manifestations of Pride: You don't trust others, you are always right, being judgmental and critical of others, always trying to hit the next goal, getting down on yourself when you fail, not wanting to depend on anyone.
Manifestations of Vanity: You seek approval and acceptance from others, wanting others to like and admire you, fear rejection from friends and peers, fall into impurity in order to be liked or feel loved.
Manifestations of Sensuality: You avoid tasks or work because of your emotional state, always wanting the "newest and best" of everything, don't control your appetite, eating or drinking to excess, escape by turning on TV or watching movies to avoid what you should do, seek intimacy for selfish pleasure.
3) List out 4 – 6 manifestations of your root sin.
     Example: I tend to judge other people
4) Choose an opposite virtue to your root sin
     Examples of opposite virtues:
     Pride: Humility, Simplicity, Meekness, Compassion, Docility, Service of Others
     Vanity: Purity of intentions, Seeing Christ in others, Purity, acceptance of yourself
     Sensuality: Focus on the person of Christ, Hope, Patience, Purity,
5) Choose specific means to obtain the specific virtue
      Choose what you can do on a daily, weekly, monthly basis to form the specific virtue.
6) Determine the ideal you are going to strive to imitate
     The ideal is always to strive to become more like Christ. You need to choose an aspect of Christ's personality as your ideal.
7) Choose a motto. Your motto is your battle cry.
 Here is a
worksheet
 to help you develop your Spiritual Program for Your Life. This is a
sample
 of a Spiritual Program for Your Life so you can see what a completed one may look like.
 This document should be used to do a daily examination of your conscience to see how you did each day. Reflect on it and review it. Be careful not to beat yourself up too much. Remember this is a plan that you are working on and you will not be a 100% successful every day. It took years for you to form some of these habits and tendencies. It will take time for you to work on yourself and grow spiritually.
 Be Great!