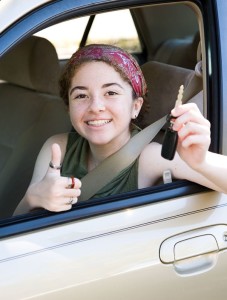 It is a scary thing for a parent to have a new driver in the house. My wife and I had four teenage drivers over the years.
She took them out driving and I paid for the insurance and did a few driving lessons myself. For some reason they liked driving with my wife more than myself, especially the girls.  My wife still puts her foot on the floor to brake and puts her hands out to the dash when I get a little close to someone. She never did this until she taught the kids to drive.
One of our friends had a driving contract that they used with their kids. We got a copy of it, adapted it our family values and used it with our four children. I have shared it with other parents with new drivers over the years. You can get a copy here.
Some of the highlights of our driving contract are:
A GPA has to maintained on a semester basis based the child's potential GPA
It limits the number of kids in the car
No cell phone calls or texting
The car must be kept clean
The teen has to respect their mom and dad
The new driver has to sign and date the contract. They get a copy. Mom and dad keep a copy.
The key to this is that you must stand behind each other as parents and stick to the driving contract. Also remember to check into state laws for how many passengers can be in a new driver's car when you are revising the contract for your use.
We were lucky and only had one instance the contract was broken.  It was much harder on my wife and I than it was for the teen. In this case the teen disrespected his mom and lost driving privileges for a month. It was a long embarrassing month for the teen. Unfortunately we had to drive them to school and sports practices.
Please share this with parents you know that have new teen drivers.
Be Great!