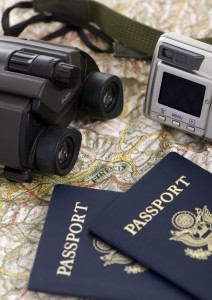 I have traveled quite a bit over the last 10 years. There are a few things I have learned to make travel safer and easier.
One of the best decisions I made was to get TSA Precheck. The cost is only $85 and it saves time getting through security at the airport. You get to keep your shoes, belts and jackets on as well. If you travel internationally the Global Entry Program makes re-entering the United States much easier. The cost of Global Entry is $100.
I keep a travel folder in my carry-on bag. The folder is a plastic folder that I print and keep my flight information, rental car reservation and hotel reservations. I also keep a photocopy of my passport in the folder in case I were to lose my passport. It's always a good idea to leave a copy of your itinerary with someone.
I carry my driver's license in my wallet and I bring my passport as a backup photo id. I carry the passport in my backpack or briefcase. Inside my passport I keep a credit card and cash in case my wallet is lost or stolen during travel.
When I park at the airport I like to park inside to avoid any potential damage to my vehicle. I live in an area that has hail, snow and ice storms. I take a picture of the sign for the level and area I parked to remember where I parked. There are some airline apps that have a feature to mark where you parked as well.
I do recommend downloading the apps for the airlines you use most frequently. You can get gate info and your boarding pass on the app. If you have an iPhone you can save the boarding pass to your Passbook app.
If you spend a lot of time in airports joining one of the clubs is a good idea. They are a good place to relax and the chairs are very comfortable. Many of them have free snack food and beverages. They have nice bathrooms, some with showers. Most of them have work stations available too. The American Express Centurion Lounges are extremely nice. They are only in New York, Dallas, San Francisco and Las Vegas at this time. These are great for longer layovers.
I travel with a backpack. I have found that by putting the load on both shoulders rather than one is easier on my back. I use a Tumi backpack. I have had it for several years and it has held up well. It has plenty of room with plenty of pockets and I can actually carry two laptops. It has a zippered pouch for the laptop so you don't have to remove it from the bag at most security check points.
If you are traveling with a companion, check to see how full the flight is when you book it. If the plane has lots of seating available, and has three seat rows, book the two outside seats leaving the middle seat empty. Many times you will have an extra empty seat in the middle giving you extra room.
It works well to carry on bags to save time and not have to worry about losing your bag. I use a 22" Eagle Creek suitcase. I also use the Eagle Creek Pack Bags to hold my shirts, underwear, socks and workout gear.
To make it easier to get your bag on and off the plane put your bag in the overhead across from your seating. It is much easier to get your bag out than to have it above your seat.
I always carry extra power sources and power cords. I keep a portable external battery charger in case I am running low on power on my iPhone or iPad. They work for android devices as well. I like to keep these in a separate bag with all the cords and chargers in my backpack.
When traveling you never know when you are going to have delays and at times you may miss a meal or two. I like to carry two protein bars and some almonds in a plastic bag just in case I am running tight on connections. I also carry Starbucks Via instant coffee packs. They come in quite a few flavors. All you need is hot water and you have some good coffee.
If you are traveling over the weekend plan out the church you are going to attend. There are lots of websites to do this. For my Catholic friends you can find mass times at masstimes.org.
I hope these ideas help you on your next trip.
Be Great!